Ethanol Proof Fuel Tank Sealer GTS1750
Product Description
26 Years Experience with sealing Ethanol Sensitive Fuel Tanks
For use in Metal, Alloys, Fibreglass, Plastic, and Carbon Fibre Fuel Tanks
Phenol Novolac Epoxies are a new breed of chemical resistant materials, able to withstand permanent immersion of many harsh solvents, fuels and oils. This Epoxy has much better bond strength than single component products, with strengths of up to 3000 PSI, and this higher strength reduces the need for a clinically clean surface, as the epoxy actually prefers to bond to a rough surface. Our new phenol novolac is more thixotropic, which means it 'hangs' on the tank walls during the coating process. This gives a thicker overall coating. There is more volume of material in the kit to allow for this.
To prepare the metal tank, simply place several nuts & bolts, or a piece of old bike chain inside and about a pint of lacquer thinner, Shake the tank around to dislodge any loose particles, then drain off the liquid and allow to dry. This procedure removes any oils left over from the fuel.
Block off any weeping seams or holes by placing duct tape over them, and fill any ports with putty, then mix up the Epoxy Gas Tank Sealer and pour into the tank. Slowly rotate the tank in every direction for several minutes, then pour out any excess resin. allow to harden for 7 days before putting into use. Will seal fuel tanks that hold up to 33 Litres of Fuel
If your Fuel Tank is smaller, and holds fuel up to 15 Litres, we do have a Mini Tank Sealer Kit, this is exactly the same as this product, just in smaller volumes, CLICK HERE>>> to be redirected. The standard colour is clear, but there is an option to buy in Red, Black or Blue, please select when ordering
REMOVES OLD TANK SEALERS INCLUDING POR 15 AND KREEM
if your fuel tanks has had a tank seal fitted previously, this would need to be removed before applying the new sealer, most Kreem and POR15 sealers will fail, sometimes very quickly, so we have developed a Products that will remove these products. This product works on Vapour and Liquid, so 1 Litre is enough to clear the old sealants from the largest fuel tanks, If you need a Fuel Tank Seal Remover then please CLICK HERE>>>, and this will take you straight to the product, were you can add to cart
You may also find that you fuel tank is rusty, you will need to remove the rust first before applying the Tanks Sealer, Again we have developed a product that is specifically for removing the rust in fuel tanks, Simply Mix 1 Litre with 9 Litres of water, and leave overnight, and this clean you fuel tank thoroughly and after a wash out is ready to seal Our "Rusty Metal" Rust remover, can then be placed in a bucked, the rust sieved out, and used again and again on other fuel tanks, and anything that you would like to De-Rust.
If you need a Rust Remover please Click Here>>> and this will take you straight to the product were you can add to cart
If you use a thinners to wash out the fuel tank, please only use Laquer Thinners as most others contain chemicals that could react and cause the seal to weaken, some people use normal thinners and have no problem but without knowing what the thinners contains we can not guarantee this If you need all 3 products, than it would be cheaper to buy our renovation kilt, which you can find here by Clicking Here>>>
Fibreglass and Plastic Fuel Tanks
All Caswell Fuel Tank Sealer are ethanol proof, we advise against using our tank seal remover in Plastic or Fibreglass Tanks as its to aggressive, the only way to remove the old seal is manually,
We recommend that if you use any thinners to clean the tank, please only use Laquer thinners, as there is a chance that some other thinners will contain chemicals that react and could cause the seal to weaken.
If you are think of painting a Fibreglass or Plastic Fuel tank that has become porous, after you have applied sealer. please wait up to 4 weeks, after application, as there will still be ethanol in the tank structure, and by painting you will trap the ethanol between the sealer and the paintand it will push back through,let it breathe out of the Fibreglass/Plastic, before applying the correct primmer
Would you rather have someone do this for YOU?
These companies are using Caswell products for their tank lining service!
Motorcycle Restoration Company (Saffron Walden, Essex)

Our team of five restorers have between them over 80 years experience working in the classic motorcycle restoration field. They are supported by a comprehensive machine shop, and a wealth of historic technical data relating to the classic scene. They are based in Saffron Waldron, Essex.
Contact them on Saffron Walden (01799) 542 323. www.motorcyclerestorationcompany.com
Hartlepool Radiator Company - Fuel Tanks
This company based in the North East of England has a tanks division which has been doing fuel tank restoration on all types of vehicles for some time.
They have used GTS1750 in-house and now offer a service to the motorcyclist/ car restorer in tank restoration. Call Stan Lamb on (01429) 236300 and discuss your tank with him. Also look on the web page at www.fueltanks.co.uk
Andover and Basingstoke Area

Call John at JBH Motorcycles who runs a motorcycle company and a tank restoration service.
John uses GTS1750 and can be contacted on 07507 827375

Anything Goes Racing, Based in Waterlooville, Hampshire
Jeep knows everything there is to know about using GTS1750, as the previous owner of Caswell Europe, he has promoted and used the product for many years.
He has worked on motorcycle and small car tanks aged from a 1909 SINGER to modern YAMAHA R1. If you need a tank resealed, Jeep can be contact on: 07778 265726
Email: jeep@anythinggoesracing.co.uk.
Web Page: www.anythinggoesracing.co.uk
BELOW IS A RECENT ARTICLE FROM PRACTICAL SPORTSBIKE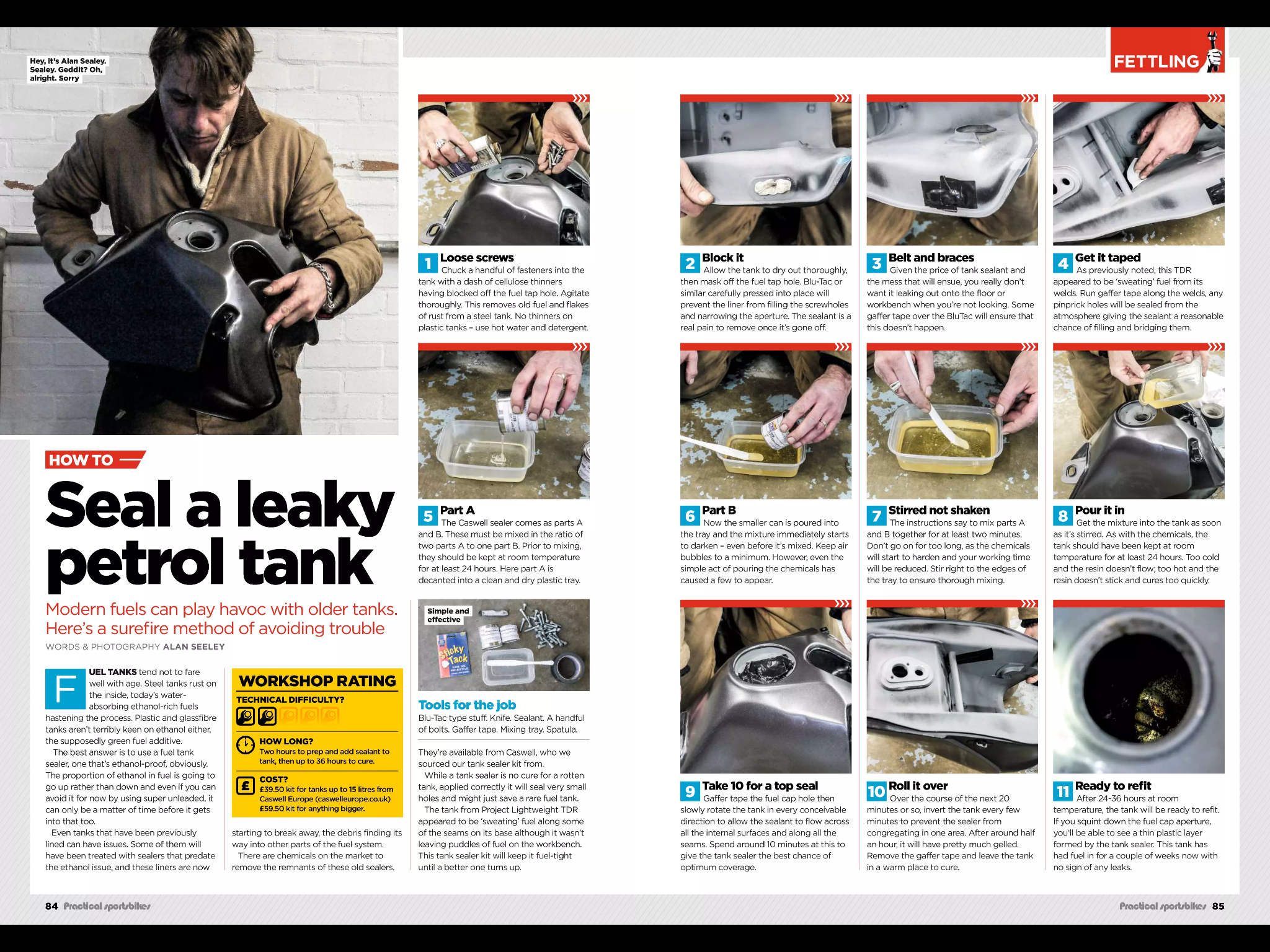 SHIPPING INFORMATION
Please note that our shipping prices are a higher than it would cost to send a normal parcel via the post, the reason for this is because any product that contains chemicals must be sent and packed as per the "hazardous goods" regulations, and be transported by a carrier that is licensed to be able to transport. we are unable to send by regular post as it is now a criminal offence to send undeclared hazardous goods, for postage rates please click on the tab above.
VAT ON SALES TO MAINLAND EUROPE
Sales to European Countries outside of the UK will be charged VAT, if you are VAT registered in a European country, please send us your VAT Number, Verification of VAT numbers must now be carried out manually via the EU Commission VIES Validation website, once we have your VAT number we can then get validation and can either credit back the VAT or issue an invoice free of VAT
We are unable to verify your VAT at our checkout process, as the EU Website does not allow third party integrations from external websites
For customers in Bosnia & Herzegovina, Gibraltar, Liechenstein, Norway and Switzerland, the invoice produced will be free of VAT, but there is a charge of £21.75 for import clearance
please complete our contact page form, or email us on info@caswelleurope.co.uk, alternatively you can call us on +44 1252 560515
Vendors Other Products
Write Review
Showing reviews 1-10 of 15 | Next
Does what it says on the box

Posted by TIMOTHY ROBERTS on 4th Jun 2017

Used this great product on my leaking Norton petrol tank, easy to use and works really well. Will use again on other projects if needed.

sorry I took so long

Posted by Unknown on 20th Apr 2017

This stuff is so easy to use I surprised my self.
I took a while to get started as with anything new I'm reluktnt touse it .Like I said so easy

Life saver

Posted by Gerald Hitchcock on 25th Oct 2016

I have used this product on two other motorcycle fuel tanks, with great results. The first time was on a glass fibre tank belonging to my Cotton trials bike, the ethanol in modern fuel had started to break down the resin. Before it was to late I washed out tank and used caswell tank sealer to try to save it
It was a total success. This was about 5years ago. The 2nd time was on a rusty metal tank, again I was successful using caswell tank sealer to save it Thank you Gerry.

Glass hard perfect proofer

Posted by David Sutton on 19th Oct 2016

I had a super rare tank which after rust removal lost half its weight in removed rust. Not quite paper thin in parts but certainly easy to dent the tank did not actually leak. I used the tank sealer to build a super strong supportive backing with the bonus of knowing any further corrosion would be stopped in its tracks. What a result exceeded all my expectations. Not the cheapest sealer but for me its a no brainer.

Product too thick to cover effectively.

Posted by nigel keating on 17th Oct 2016

I spent hours getting everything to the recommended temperature and in fact was 1c above but it was impossible to get it to cover the whole area inside the tank. I rotated and turned the tank every which way for 30 mins and I finally resorted to painting it on all the missed areas with a long brush using a torch to see what I was doing. Luckily the tank had three holes I could work through. The product was clearly too thick.

easy to use

Posted by Unknown on 11th Aug 2016

Cleaned all the fibreglass tank out as per the instructions and once dry mixed the two tins taking note of the pointers on temperature and then emptied into tank swilled round and hey presto job done all in all just follow the instructions included

Triumph Tiger T400 1995

Posted by Jochen on 8th Aug 2016

New tank buyed from Triumph in 2014 because the old 1995 tank does suspend inside.
The carburetors was finished inside with plastic residues from the old tank, so i have to clean them.
Sign of disintegration after a few weeks in the new tank !
Again extensive cleaning of carburators after a few weeks
the carbs where gridlocked with plastic residues.
Cleaning the tank inside without success.
So i have to clean the carbs for the third time.
After fast supply of this Tank Sealer i am hopefully looking forward.
Easy handling by good preparation and perfect temperature.
In a few years we will knew if success is steady.

Best regards, Jochen



Saved a Tiger

Posted by Stephen North on 2nd Jun 2016

Read various forums and Caswell Tank Sealer is highly recommended. Email sent to company to clarify details was promptly replied to. Kit fairly expensive. Attempted to use the kit on a warm day after watching various You-Tube demonstrations. Read the instructions and started. Think it was too cool on the day as the sealant remained fluid for longer than the directions said it would so there were problems trying to get it to set.
I left the extra in to give extra protection over the captive nuts in the tank sides.
Finished article back on the bike (had to drill and file the plastic to get the petrol tap in - but that is my fault for not emptying the extra material out) and is working fine so far.
Would I recommend using this again - certainly (ask me in a couple of years if the seal is still working!). BUT PAY ATTENTION TO THE AMBIENT TEMPERATURE AND TEMPERATURE OF THE TANK. Think what saved me was the tank is Black!


Ducati tank lined

Posted by Unknown on 19th Oct 2015

Product arrived very quickly and with good instructions, easy to use and appears to have done a good job but time will tell.

Gas tank Sealer

Posted by Marc sommer on 7th Sep 2015

Comsonic 650 left my tank looking like new inside.To keep it that way I used Gas Tank Sealer.The results are simply amazing.The tank now has a healthy shine inside and continues to look as good, or even better than new.Simply amazing.
Showing reviews 1-10 of 15 | Next
Question.
My Fuel Tank has an existing seal from another product that has started to flake due to the high ethanol content in fuel today, will Caswell GTS1750 suffer the same problem

Answer.
Unlike other manufacturers that claim there product is ethanol resistant, ours is 100% guaranteed, we sell 1000s of Sealer Kits each year and have never suffered a failure from the ethanol problems.

Question.
Can I apply the Fuel Tanks Sealer over my old tank seal that is flaking.

Answer.
We would highly recommend that you remove the old seal first, we sell a Fuel Tank Seal Remover that will remove the old seal, it costs £16.68 a litre which should be sufficient for most size tanks, its simple to use, just pour in, and it will reduce the old seal back to a resin type material that can be poured out.