ALUMINIUM ANODISING KITS
Our Anodising Kit provides a professional finish to aluminium, It is Ideal for small objects such as vehicle parts, motorcycle parts, boating accessories, electrical components, or decorative items. It contains everything you need to Anodise to a high standard on a regular basis. This is a professional kit, that cannot be compared to the cheaper kits on the market today, and has been tried and tested by individuals, small companies, School, Colleges and Universities across Europe for more than 20 years.
If you require a larger kit, or would like to upgrade your kit at a later date, simply call or email us, and we can supply larger tanks and quantities of consumables at a sensible price.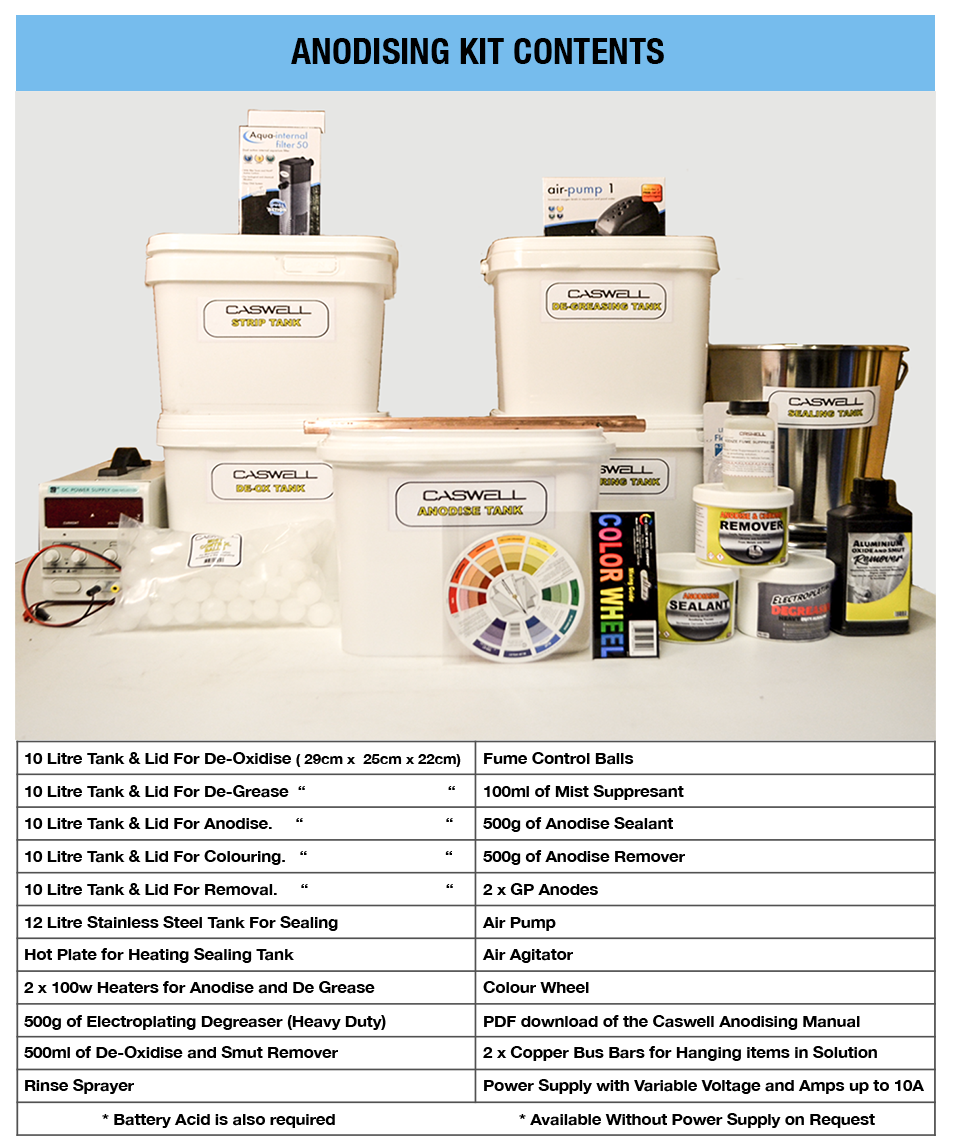 THE ANODISING SYSTEM
Using a sulphuric acid process, most grades of aluminium can be anodised. This process is best suited to sheet metal applications, however aluminium castings can also be treated very successfully.
During the process, a thin film of oxide is formed over the aluminium. This is actually grown out of the metal, and is a part of the original piece, unlike a plated surface, which is likely to peel from the substrate. This film is ALUMINIUM OXIDE, a very hard protective layer. Because this layer is so hard and corrosion resistant, it makes it the ideal and often preferred choice for the restorer of vehicles with aluminium trim etc.
At this stage of the process the film has microscopic pores which have to be sealed by dipping the part into Caswell Anodise Sealant The part may be coloured prior to Sealing by simply soaking in an Anodise Dye which are specifically made for the purpose. An almost infinite range of colours can be produced. The anodise layer is formed at the rate of 0.0001" per 7 minutes. A twenty-minute rate is ideal for most applications.
Due to the hardness of the Anodise finish, it is ideal for areas where scratching from road grit etc. is likely to pose a problem. It can be considered permanent if the part is buffed and polished before the treatment is carried out. The finish can be made to look like a chrome plate, and no further buffing or polishing will be required.
ANODISING DYES
We have a large range of anodising dyes please click here to see the colours
SHIPPING INFORMATION
Please note that our shipping prices are a higher than it would cost to send a normal parcel via the post, the reason for this is because any product that contains chemicals must be sent and packed as per the "hazardous goods" regulations, and be transported by a carrier that is licensed to be able to transport. we are unable to send by regular post as it is now a criminal offence to send undeclared hazardous goods, for postage rates please click on the tab above,
VAT ON SALES TO MAINLAND EUROPE
Sales to European Countries outside of the UK will be charged VAT, if you are VAT registered in a European country, please send us your VAT Number, Verification of VAT numbers must now be carried out manually via the EU Commission VIES Validation website, once we have your VAT number we can then get validation and can either credit back the VAT or issue an invoice free of VAT
We are unable to verify your VAT at our checkout process, as the EU Website does not allow third party integrations from external websites
For customers in Bosnia & Herzegovina, Gibraltar, Liechenstein, Norway and Switzerland, the invoice produced will be free of VAT, but there is a charge of £21.75 for import clearance
please complete our contact page form, or email us on info@caswelleurope.co.uk, alternatively you can call us on +44 1252 560515